home
site news
atari news
atari glossary
atari history
atari video game systems
> atari 2600
> atari 5200
> atari 7800
> atari lynx
> atari jaguar 64
> technical specs
> really 64bits?
> pcb-layout
> cartridge tech
> hardware
> software
> collection
> gallery
> 'panther' project
> confidential letter
> jaguar 2
> cojag
> kiddie rides
> 'do the math'
> atari jaguar CD
> atari xegs
atari computers
atari coin-op
atari stand-alone-systems
atari library
atari theater
atari links
legal stuff/imprint
contact us
The Atari 'Panther' project
Since 1988, there have been rumors about Atari's new game-system; the 'Panther'.
The 'Panther' was conceived as a 32bit-system as was very similar to the released 'Jaguar', except that the 'Jaguar' was 64bit and more sophisticated. But during development (both machines were developed in parallel and the 'Jaguar' was considered to be the successor of the 'Panther') engineers saw that the progress on the 'Jaguar' was faster. All development on the 'Panther' was stopped immediately to focus on the more powerful machine.
There is only one known prototype of the panther to exist...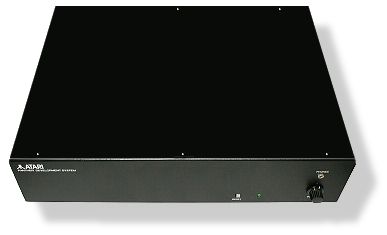 Here are the 'Panther' specifications (note the similarities to the 'Jaguar'):
Processor:
Motorola 68000, running at 16 MHz, 1.4 Mips
Memory:
32 Kbytes fast, static-RAM
64 Kbytes ROM on board
8 Kbytes sound RAM
Cartridges:
Up to 6 Mbytes (48 Mbits)
Video:
320*200 pixels, non-interlaced
32 colors / line
7860 colors / screen
Palette of 262.144 colors
RF, RGB and S-VHS output
Genlock option
Sound:
8 Mips, 29 bit DSP
16 bit, stereo PCM sound
25 voices, each with independent volume
Envelope
4 pole digital filter
Frequency control and pan
8 Kbytes PCM RAM
Twin, stereo headphone sockets
Graphics:
32 MHz, object oriented, graphics processor
About 2000 sprites can be displayed (and manipulated) simultaneously
Object processor provides hardware-scrolling (zoom & shrink)
Horizontally and vertically DMA
Run length-decoding in hardware
Fast hardware addition, for object manipulation
Pixel programmable interrupt
Joystick:
Two, multi-function joystick ports
X,Y controller, 3 fire buttons, 12 key joystick as standard
Options:
Paddles
Lightgun
Infra-red remote control
CD-ROM
Modem
Genlock
ComLynx interface